SATO RACING KTM-1290RS-BK KTM 1290R SUPER DUKE REAR SET KIT BLACK
KTM 1290 SUPER DUKE R ('14- )
REAR SETS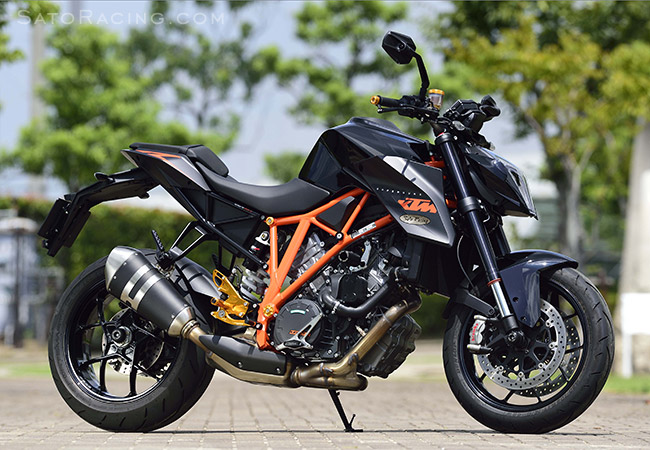 SATO RACING Rear Sets for 2014 and up 1290 Super Duke R are made from high grade billet aluminum anodized in a striking Black finish, or Silver or Gold finish with contrasting Black base plates. Modular design provides 6 adjustable foot peg positions in a range that brings your feet up higher and further back compared to stock.

An optional Reverse Shift Plate

is also available, changing the standard stock shift pattern of the Rear Sets to a GP-style reverse shift pattern.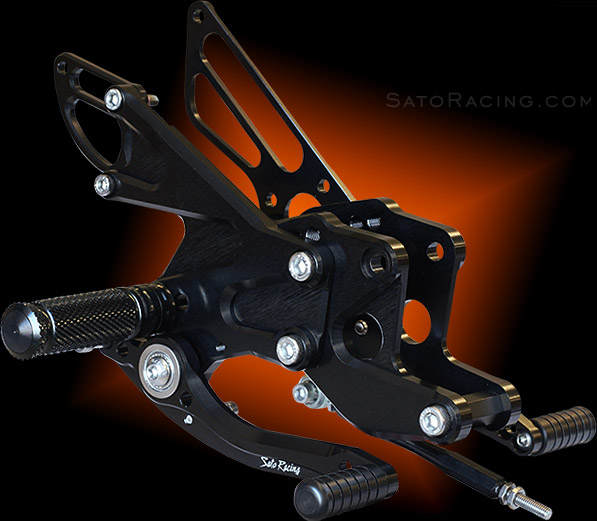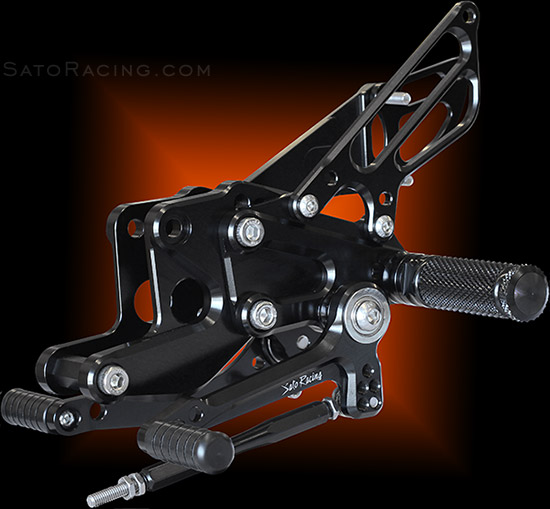 POSITIONS
| | | |
| --- | --- | --- |
| 1 | 35mm Back | 40mm Up |
| 2 | 47.5mm Back | 40mm Up |
| 3 | 35mm Back | 52.5mm Up |
| 4 | 47.5mm Back | 52.5mm Up |
| 5 | 45mm Back | 52.5mm Up |
| 6 | 57.5mm Back | 52.5mm Up |
note: all measurements are in relation to stock position (0 mm).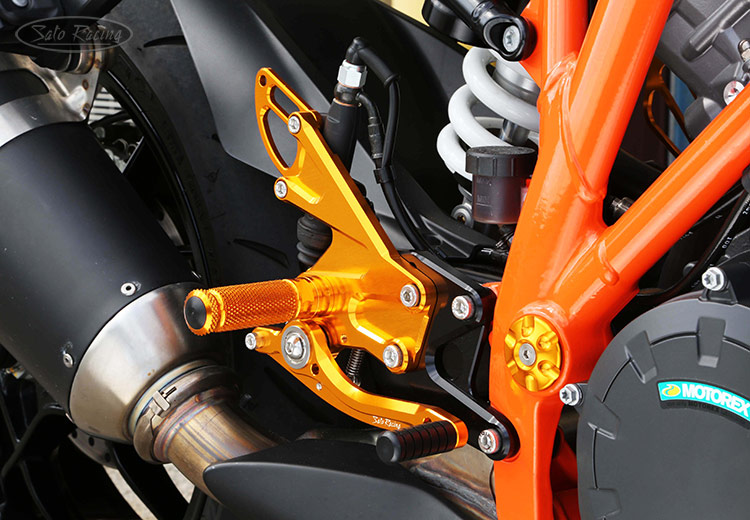 The shift and brake pedals utilize double stainless
bearings for smooth, precise pedal movement.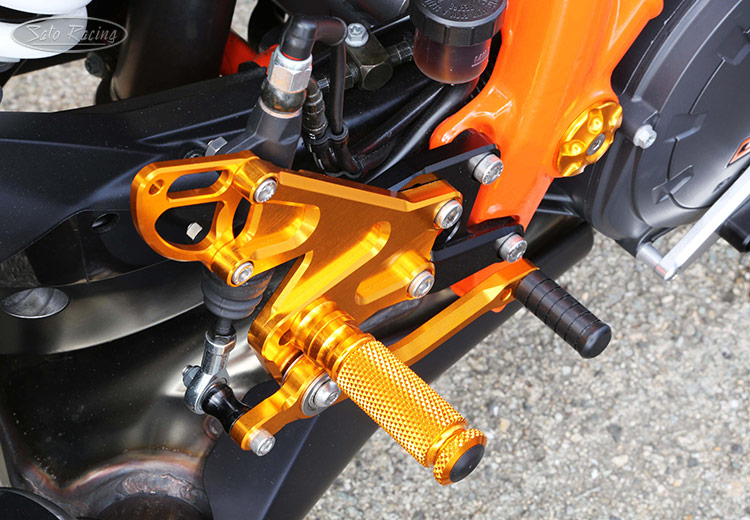 The foot pegs have a deeply knurled pattern for excellent grip.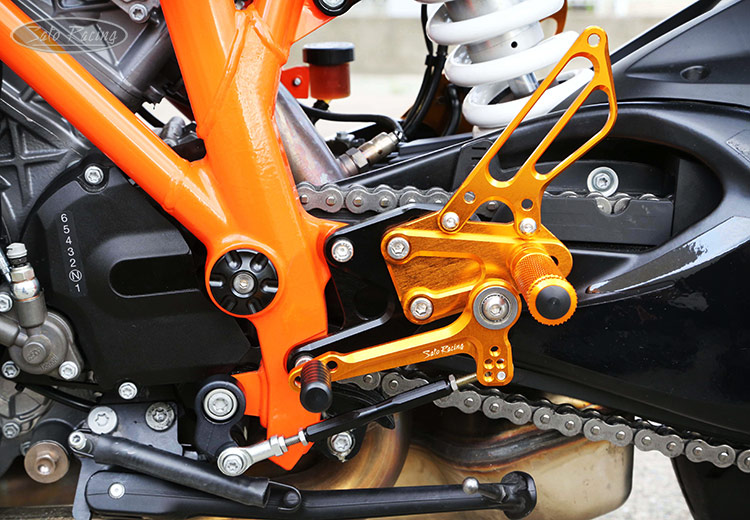 These Rear Sets have a stock shift pattern when attached to the stock change arm.
The multiple adjustment holes on the shift pedal let you fine-tune the shift stroke.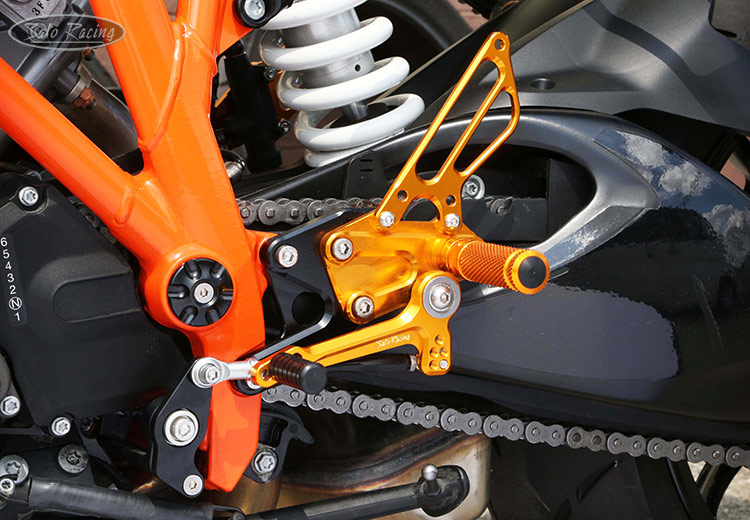 Rear Sets shown with optional Reverse Shift Plate,
which converts these Rear Sets to a reverse (GP) shift pattern.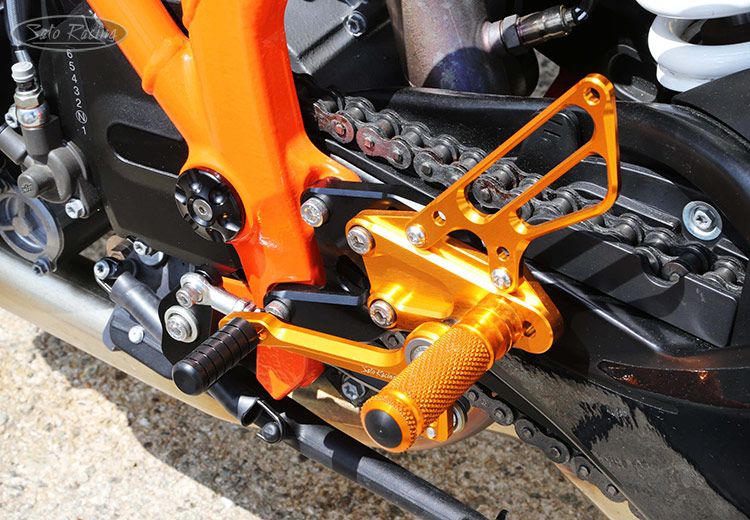 REAR SETS
* Click Here for important info about Sato GOLD-anodized parts.
REVERSE SHIFT PLATE
| | |
| --- | --- |
| Provides a reverse shifting pattern for SATO RACING 990 Super Duke and 1290 Super Duke R Rear Sets. If using with SATO RACING 1290 Super Duke R Rear Sets, a shorter, 90mm-length Shift Rod is recommended. | |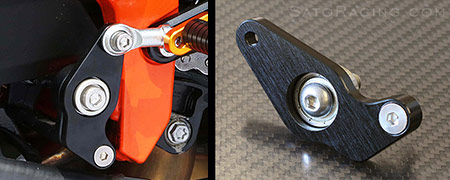 REVERSE SHIFT PLATE




[BLACK]

KTM-990RS-RSP




$65
SHIFT ROD

(90mm)




[BLACK]

SRD-90-B




$26